Greetings, Leola Families! Reminder that the Leola School Open House will be on Thursday, Aug. 11 from 4:00-7:00 pm. You can stop in to get your back to school information, visit with teachers and drop off supplies. If you are in band, please bring your instrument and if you are in sports, you can bring in completed physical forms. Note that students in grades 6-12 will get their laptops on the first day of school. Also, students in grades 3-5 will get a school issued binder. Most information is on the Leola School webpage but we are adding more information as we get closer to the start of school which is Monday, Aug. 22nd. We look forward to seeing you!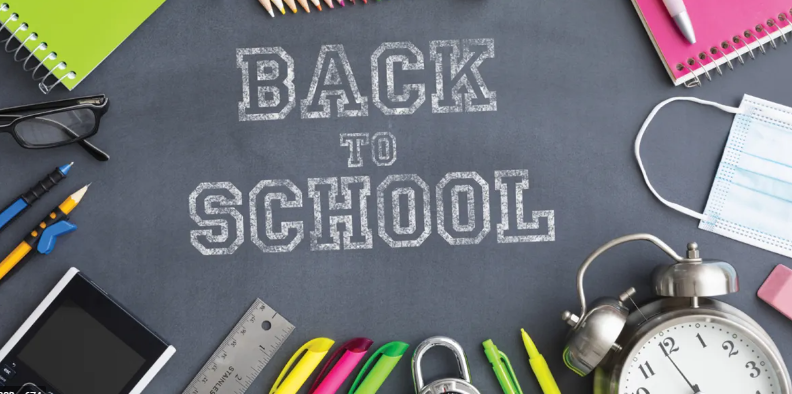 Also, reminder for fall athletes to bring in physical forms if you have not done so and complete concussion testing with Val. Football for grades 9-12 begins tomorrow.

Greetings, Leola Titan Athletes! Just a reminder that our Fall Sports Meeting is tonight starting at 7:00 pm in the Leola Cafetorium. If your child is in grades 6-12 and interested in fall sports (volleyball, football, cross country) OR is interested in winter/spring sports and just want to attend, feel free to attend as well. We look forward to seeing you. GO TITANS!

School Supply List 22-23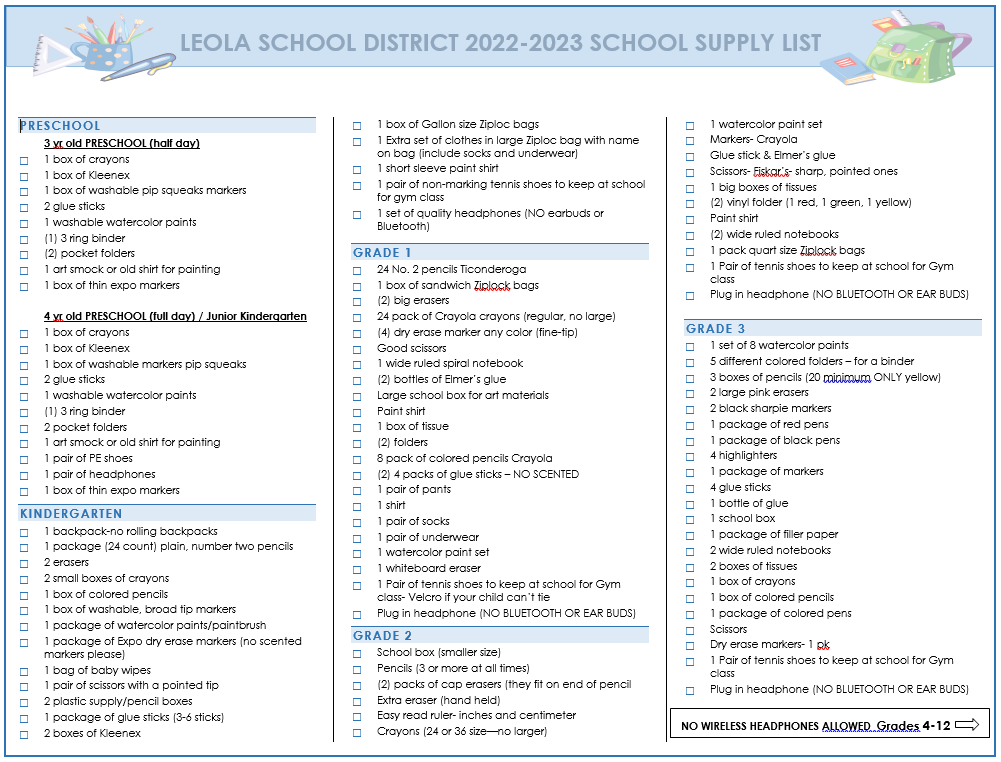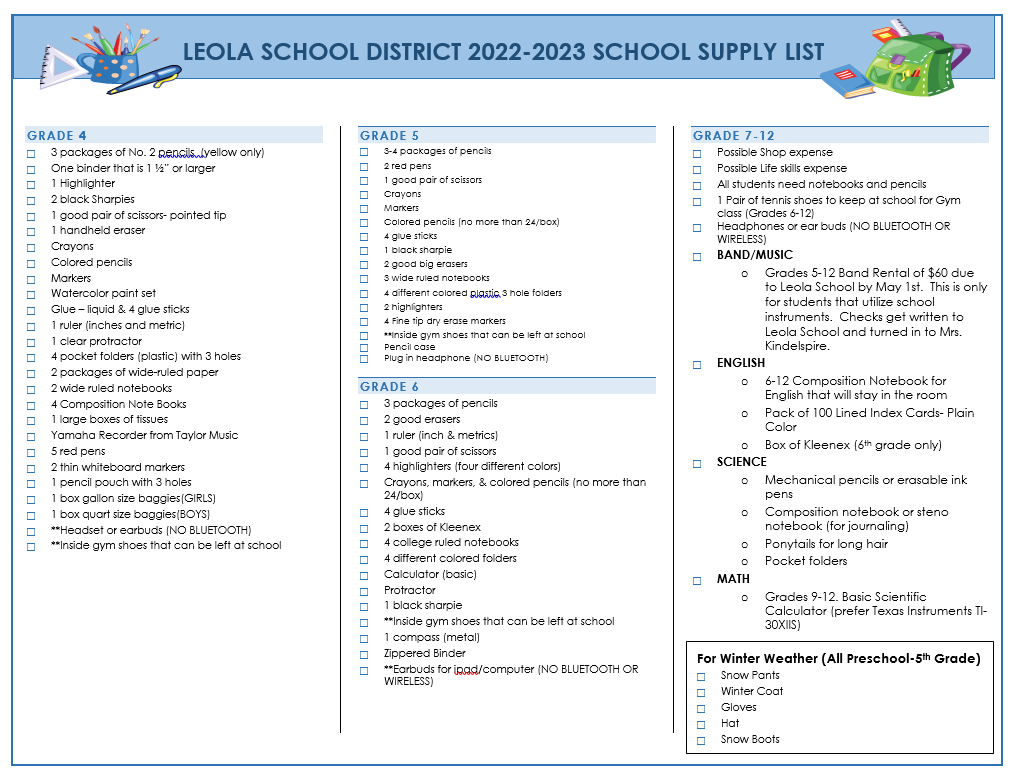 FREE SDSD HEARING TESTS Are you looking to get your child's hearing tested before school is back in session? SDSD provides hearing tests for SD children ages birth to 21 years at no cost to families and schools. Check out the attached flyer for more information. Kami Van Sickle South Dakota School for the Deaf Service Coordinator 4101 W. 38th St., Suite 101 Sioux Falls, SD 57106 Office: 605-275-7539 Fax: 605-367-5209

Greetings! Here are our activities for the last week of the 21-22 school year: Monday, K-5 Field Trip to Aberdeen and Track meet in Oakes. Tuesday, 5th - 11th grade sports physicals (need $25.00 and completed form), junior high track in Ipswich and golf in Webster. Wednesday, PreK-5th grade Track & Field day at 1:00. Thursday, last day of school with a 1:00 dismissal and Region Track meet in Britton and golf meet in Ipswich. Thank-you, families, for your support through out this year. Have a GREAT summer!

The Leola School is reminding everyone of our Graduation ceremony tomorrow, Saturday, May 14th at 2:00 pm in the gym. Congratulations, Class of 2022!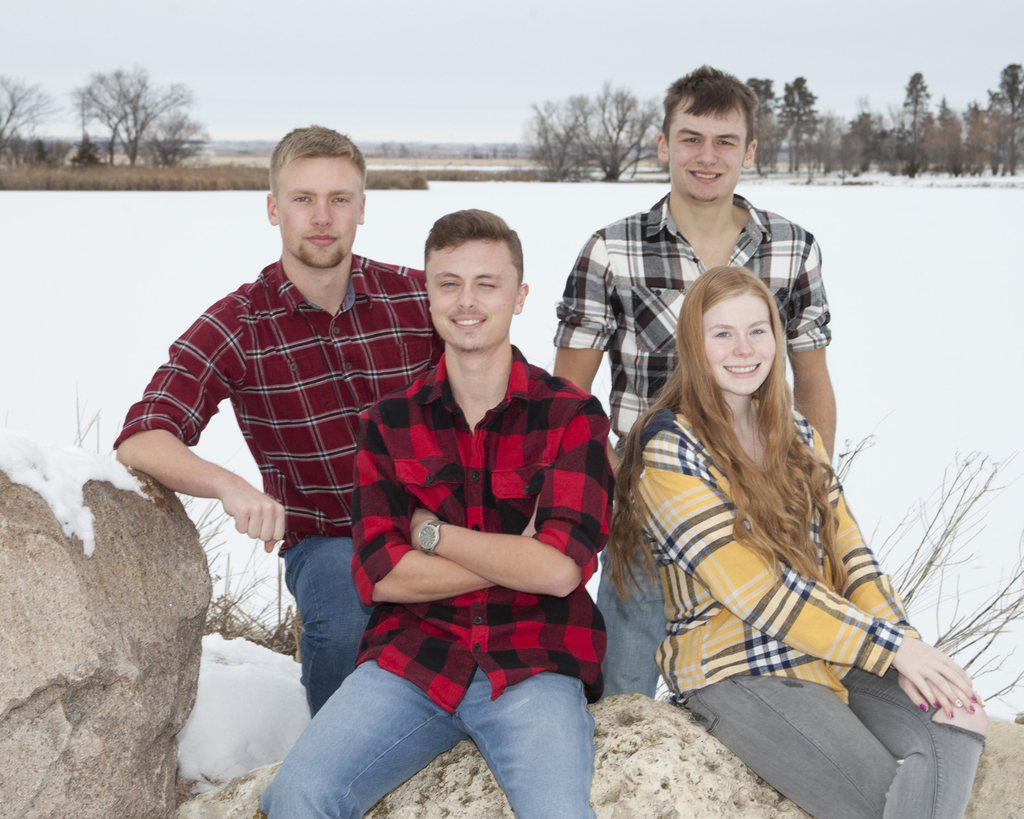 Just a reminder that grades 6th-12th students awards banquet is tonight starting at 6:30. Students in grades 6-12 and presenters meals are at no charge. Families and community members are welcome join us for supper at 6:30 in the Cafetorium- there is a free will donation. The Awards portion will begin at 7:00 pm.

The Leola Awards Banquet is Wednesday, May 4th starting at 7:00. There is a meal at 6:30 for all 6-12 students and coaches/advisors. Students are reminded to dress up for the awards banquet.

Due to the forecasted weather for tomorrow (rain this evening, 20-40MPH winds, and a chance of rain), the Tigers Relays Track meet and the Ipswich Invite Golf Meet have been CANCELLED.

The Leola School District is taking applications for Paraprofessionals for the 2022-2023 school year. Applications can be found on the Leola School webpage @
https://www.leola.k12.sd.us/browse/226600
. Please email completed applications to:
bev.myer@k12.sd.us
or drop it off at the school office.

Reminder of tomorrow's PreK-5 Spring Music concert tomorrow, May 21st @ 7:00 pm in the Leola gym. Come on out and enjoy!

The Leola School will have a special public meeting tomorrow, April 20th @ 7:00 pm in the school gym regarding the Carbon Dioxide Transmission Pipeline. All are welcome.

Yearbook Pre-Sale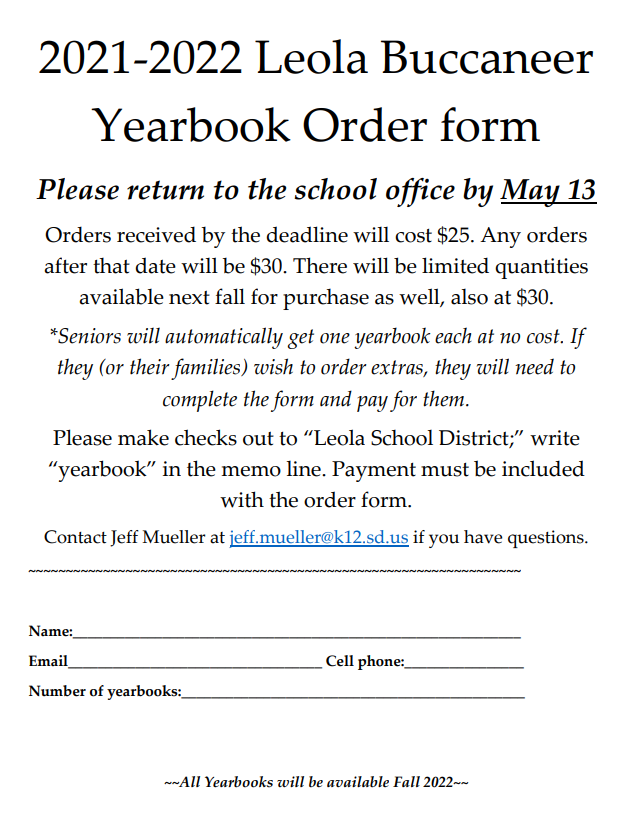 Driver's Education Form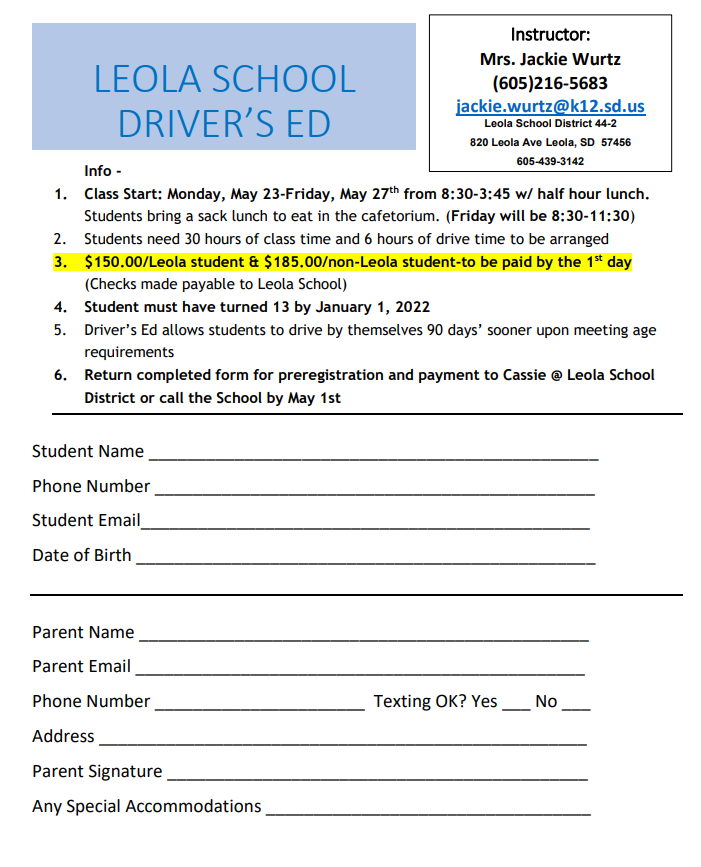 Due to weather conditions, the Leola School will have a 10:00 AM late start, tomorrow, Wednesday, April 13th. Reminder, no breakfast or younger preschool group on late start days.

Greetings! Here are a few reminders as we begin to wrap up this week: Tonight's 6-12 Spring concert will start at 7:00 pm in the gym. Tomorrow is a 1:00 pm Early Dismiss with the remainder of the day a teacher work day. Then, we'll complete our week on Saturday with the School Play starting at 7:00 pm in the gym with a free will donation. Thank-you and have a great day!

Easter Egg Hunt/Garage Sale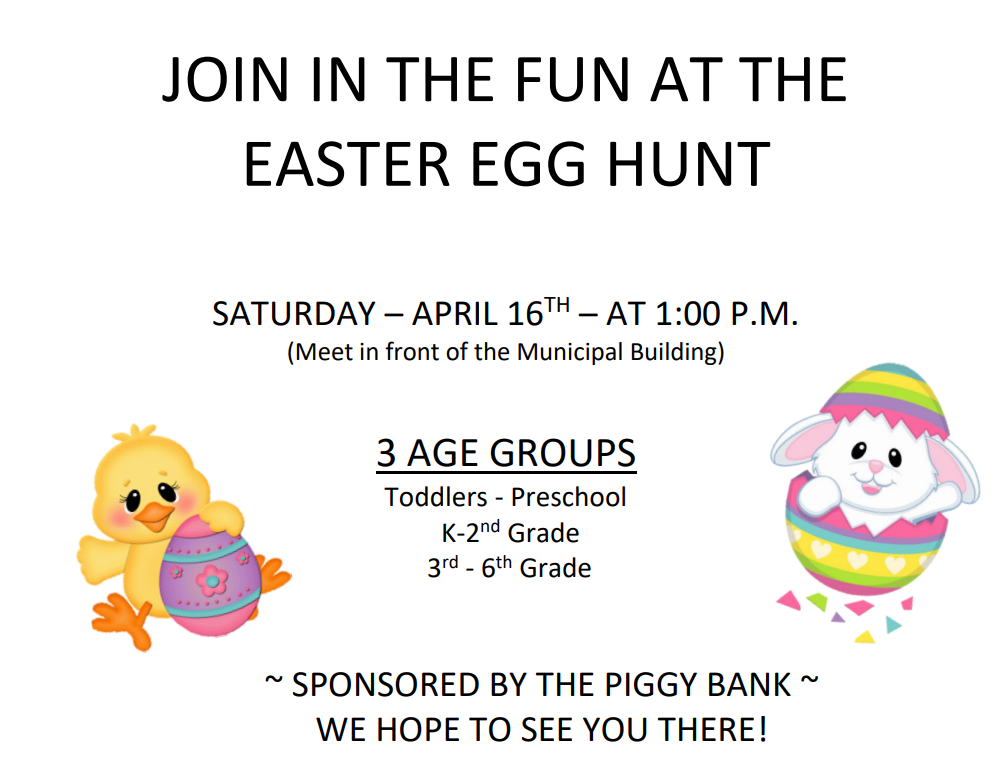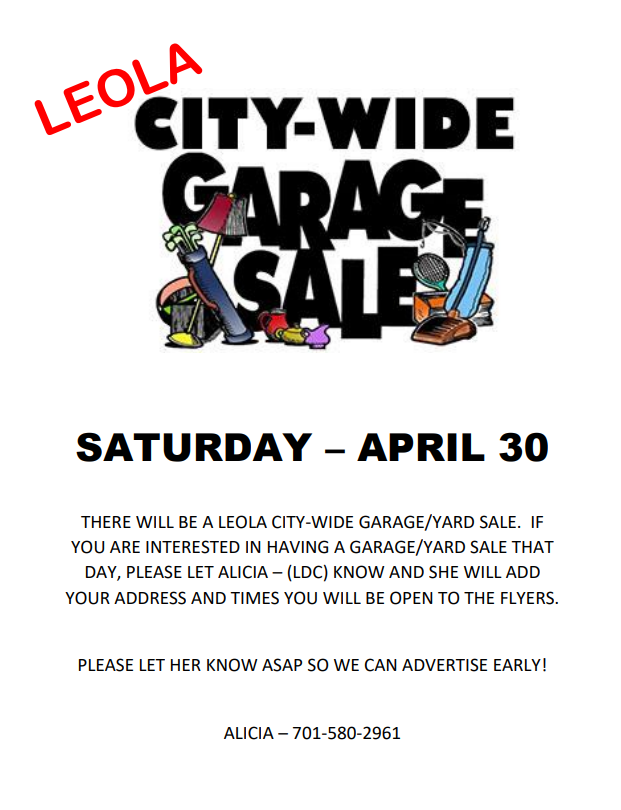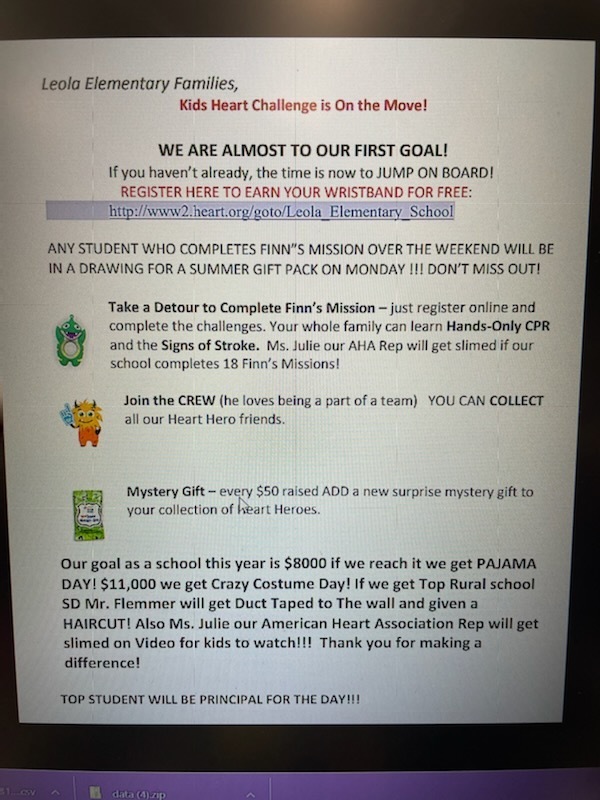 Heart Challenge Flyer 4.1.22