The Leola School is reminding everyone of our Graduation ceremony tomorrow, Saturday, May 14th at 2:00 pm in the gym. Congratulations, Class of 2022!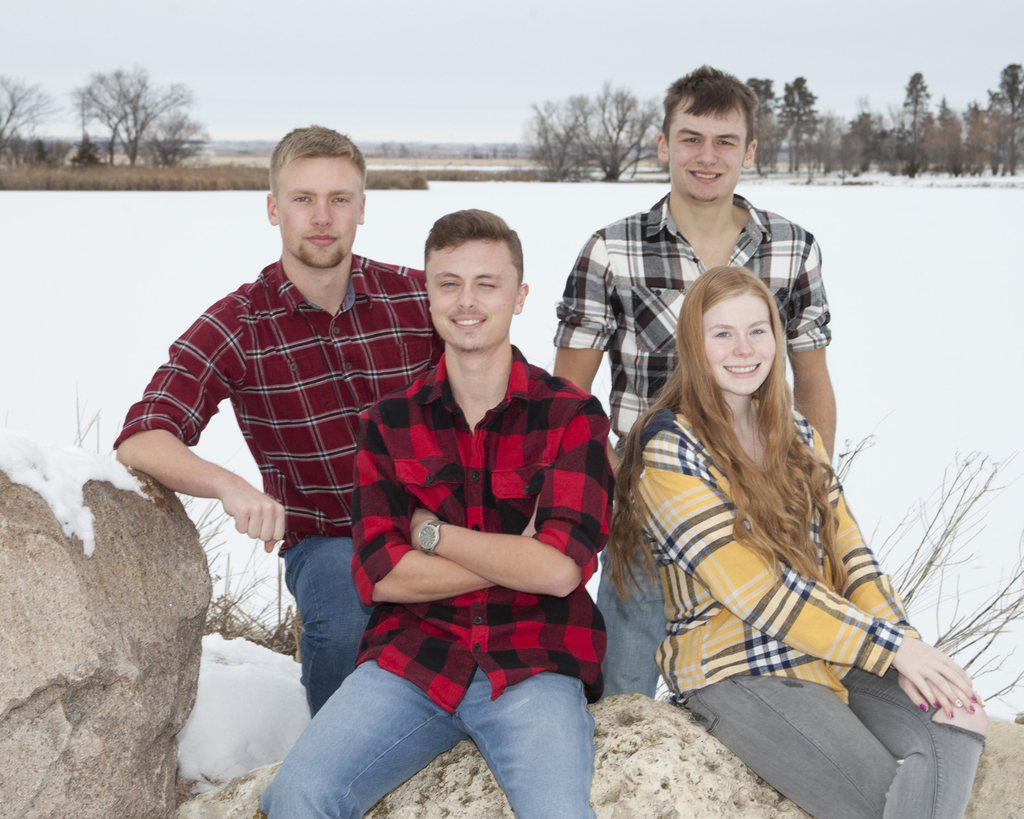 Just a reminder that grades 6th-12th students awards banquet is tonight starting at 6:30. Students in grades 6-12 and presenters meals are at no charge. Families and community members are welcome join us for supper at 6:30 in the Cafetorium- there is a free will donation. The Awards portion will begin at 7:00 pm.

The Leola Awards Banquet is Wednesday, May 4th starting at 7:00. There is a meal at 6:30 for all 6-12 students and coaches/advisors. Students are reminded to dress up for the awards banquet.

Due to the forecasted weather for tomorrow (rain this evening, 20-40MPH winds, and a chance of rain), the Tigers Relays Track meet and the Ipswich Invite Golf Meet have been CANCELLED.

The Leola School District is taking applications for Paraprofessionals for the 2022-2023 school year. Applications can be found on the Leola School webpage @
https://www.leola.k12.sd.us/browse/226600
. Please email completed applications to:
bev.myer@k12.sd.us
or drop it off at the school office.

Reminder of tomorrow's PreK-5 Spring Music concert tomorrow, May 21st @ 7:00 pm in the Leola gym. Come on out and enjoy!

The Leola School will have a special public meeting tomorrow, April 20th @ 7:00 pm in the school gym regarding the Carbon Dioxide Transmission Pipeline. All are welcome.

Yearbook Pre-Sale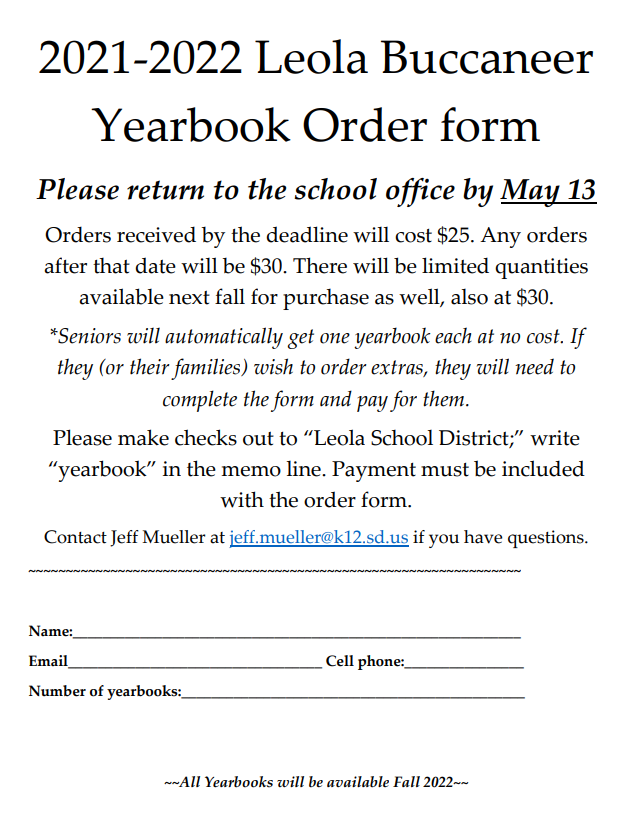 Driver's Education Form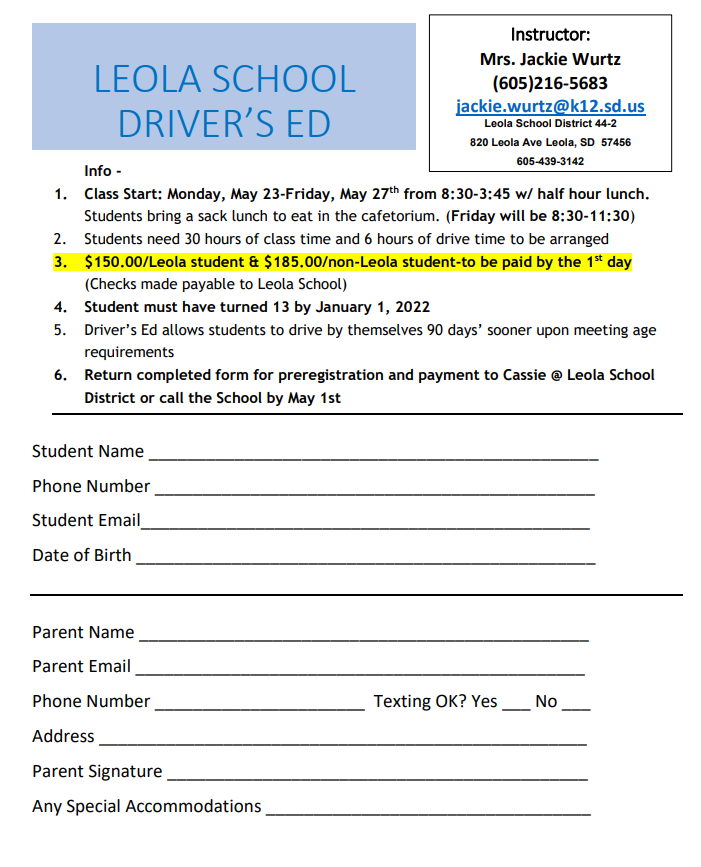 Due to weather conditions, the Leola School will have a 10:00 AM late start, tomorrow, Wednesday, April 13th. Reminder, no breakfast or younger preschool group on late start days.

Greetings! Here are a few reminders as we begin to wrap up this week: Tonight's 6-12 Spring concert will start at 7:00 pm in the gym. Tomorrow is a 1:00 pm Early Dismiss with the remainder of the day a teacher work day. Then, we'll complete our week on Saturday with the School Play starting at 7:00 pm in the gym with a free will donation. Thank-you and have a great day!

Easter Egg Hunt/Garage Sale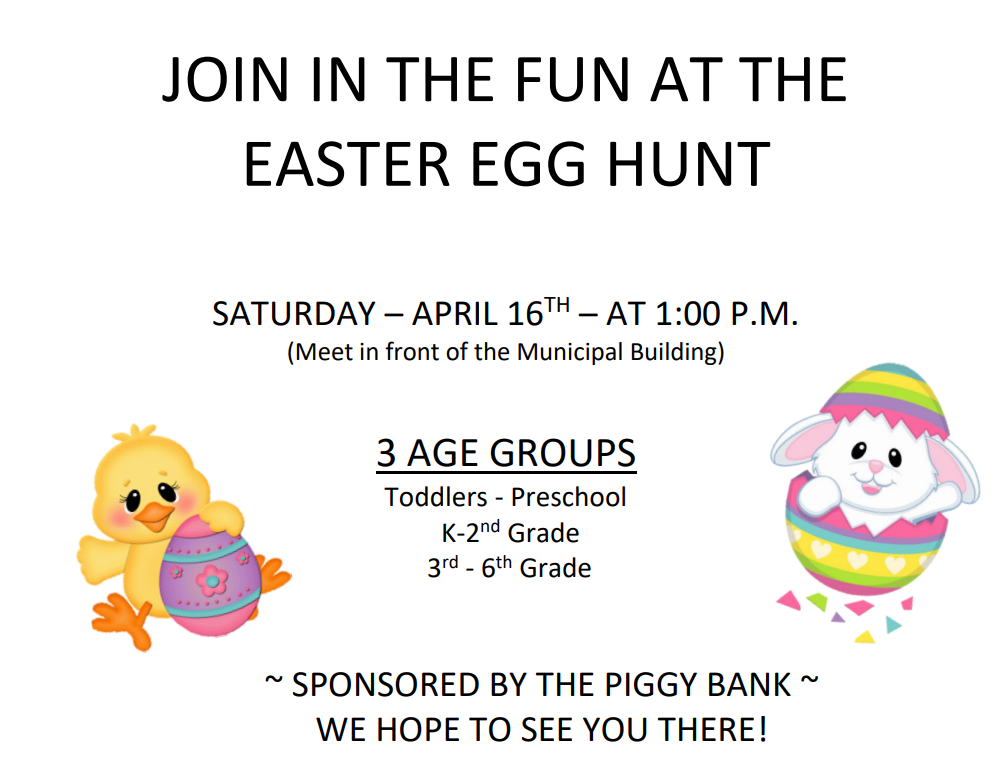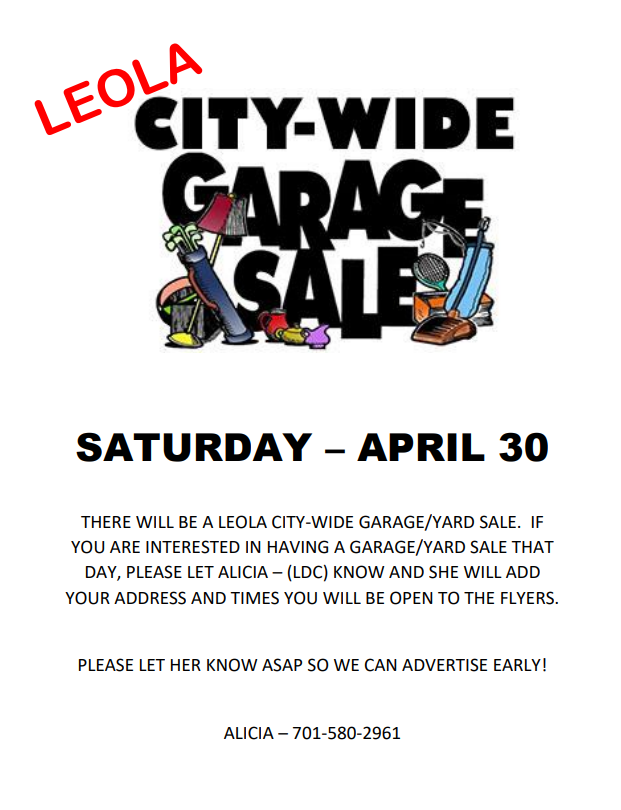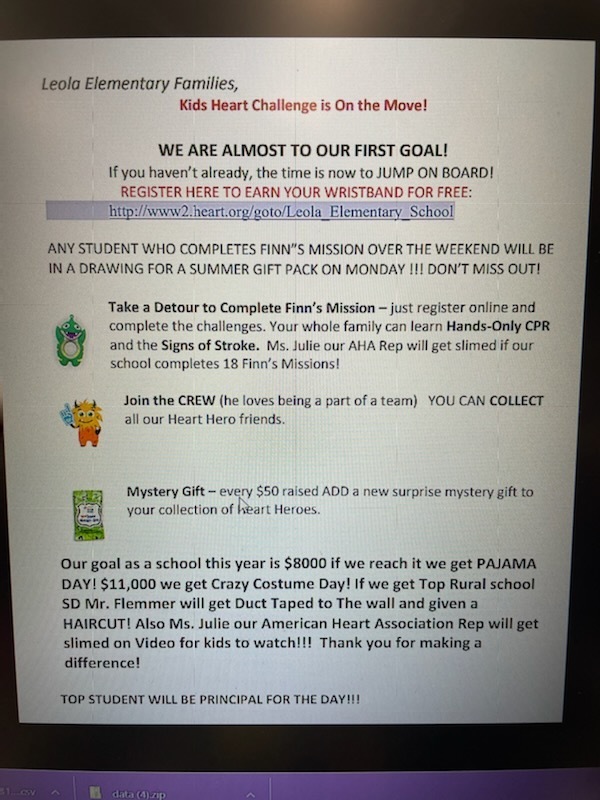 Heart Challenge Flyer 4.1.22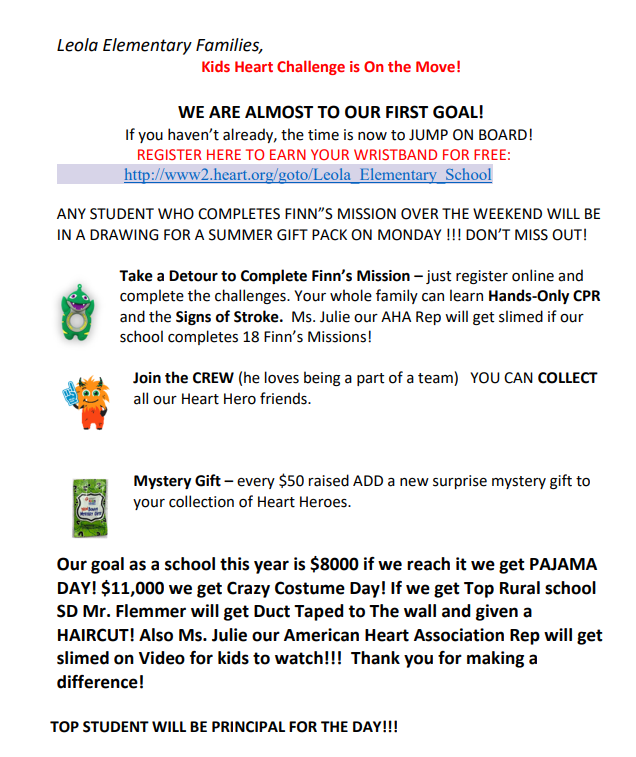 KIDS HEART CHALLENGE IS IN FULL SWING! Our Kid's Heart Challenge Program in full swing and we are so grateful to have 67 students registered and taking a heart healthy challenge of Being Kind or Being Active and 4 students who have completed Finn's Mission so far! Amazing EVERY DAY, I WILL BE HANDING OUT EARNED HEART HERO CHARACTERS AT SCHOOL! Check list: Have you… Completed Finn's Mission? Collected Mystery Gifts for every $50 raised? Sent 10: Send 10 emails to friends and families asking for support? SHARED YOUR PAGE ON SOCIAL MEDIA? (Share the link below)
http://www2.heart.org/goto/Leola_Elementary_School
Top-Fundraising Student Incentive: Principal for the Day! Rolling Classroom Incentives: $500 raised = Extra Recess with Mr. Flemmer $800 raised = Pick Out Mr. Flemmer's Outfit $1,100 raised = Ice-cream Treats $1,400 raised = Donuts $1,700 raised = Popcorn and Movie $2,000 raised = Pop and Pizza Party with Mr. Flemmer Rolling School-Wide Incentives: $8,000 raised = School-wide Pajama Day (Bring Your Stuffed Animal) $11,000 raised = Crazy Costume Day $14,000 raised = Duct Tape Mr. Flemmer to the Wall Top Rural School = Give Mr. Flemmer a Haircut Thank you for helping us save lives and learn how to take care of our own hearts! Thank you! Mr. Flemmer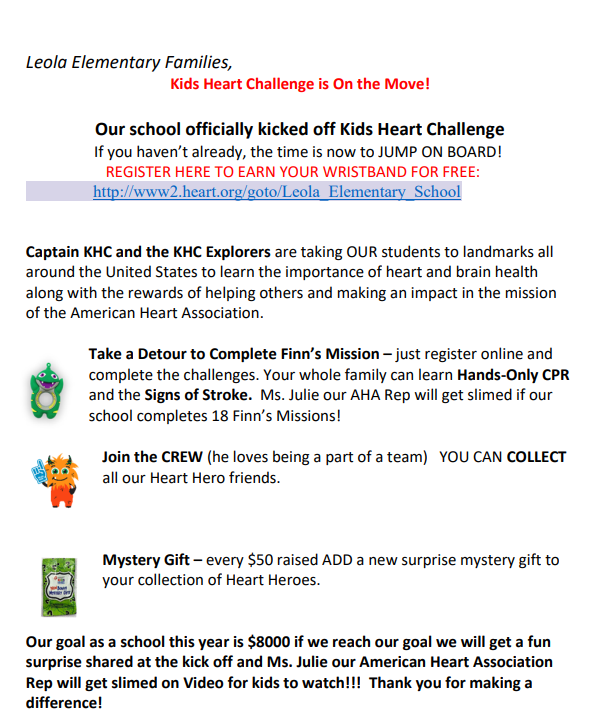 Greetings, Families! This is just a reminder that our Spring Break begins tomorrow, Thursday, March 17 or Friday, March 18; which means there is no school either day. We will resume to our normal schedule on Monday, March 21st. Have a nice break.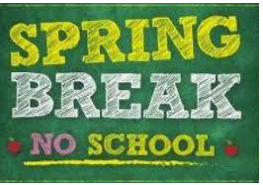 Child-Find Screening and Leola Preschool Registration The Leola School District will conduct its annual Child Find screening on: Wednesday, April 6th, 2022 in the Leola School Gymnasium. All children ages 3 and 4 who have not yet been screened and all children turning 5 years old prior to September 1, 2022 are recommended for this screening. The purpose of Child Find Screening is to provide the parents and the school with information related to the child's educational development in the areas of: · basic concepts · language and speech development · motor skills Other area providers will be present to review immunizations and screen vision. This is conducted by the school district at no cost to the family and will take approximately 1 hour. This is not a mandatory screening, however, it is highly recommended. Also, Preschool Registration will take place for those children who will be at least 3 years old by Sept. 1st and are entering Leola School District's preschool in the fall. Parents are asked to bring their child's birth certificate and social security card to the registration. This information is required by the State and will need to be on file in the office prior to the child's first day of school. Please call the school to make an appointment for the screening at 605-439-3142. If you would like more information about the screening or if you know of a child that may benefit from the Child Find Screening, please contact at the Leola School at 439-3142.

Due to the dangerously cold temps, the Leola School District will have a 10:00 am on Wednesday, Feb. 23rd. Reminder, there is no breakfast or younger preschool group on last start days.

In addition to no school on Tues. Feb. 22nd, all activities have been cancelled as well.

There will be no school at the Leola School, tomorrow, Feb. 22nd .