Due to the icy conditions and impending snow fall amounts, there will be no school in the Leola School District, tomorrow, Tuesday, December 13, 2022.

Due to illness in the Langford school, Saturday's doubleheader in Langford has been postponed. The reschedule dates are: Boys: Friday, January 20, at 6:30PM Girls: Monday, February 6, at 6:30PM

Good Afternoon! This is a reminder of tomorrow's Preschool through 12th grade music concert starting at 7:00 pm in the gym. Also, reminder of Friday's 12:30 dismissal. Have a nice day!

Good Morning. The Leola School District will have a 10:00 am late start to give time to clear some roads and parking lots. Reminder, no early preschool or breakfast on late start days. Travel Safely!

12 Days of Christmas Dress Up- Starts 12/7/22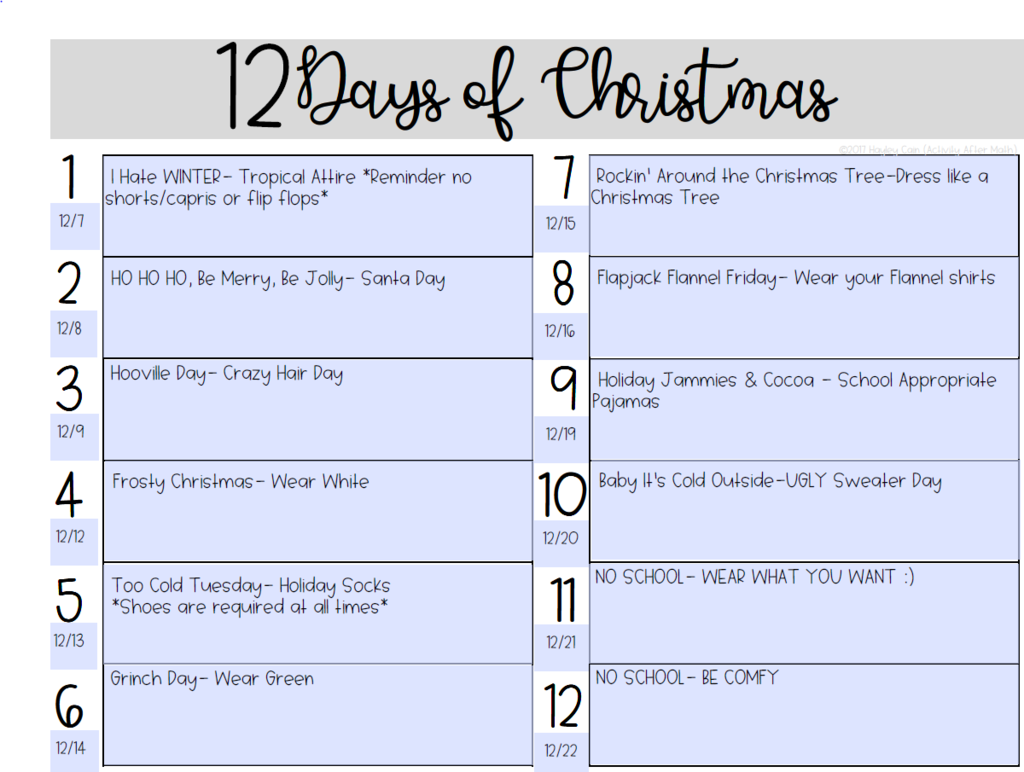 Join us for Family Gingerbread House Making Party on Friday, December 16th after Flapjacks for Family/Friends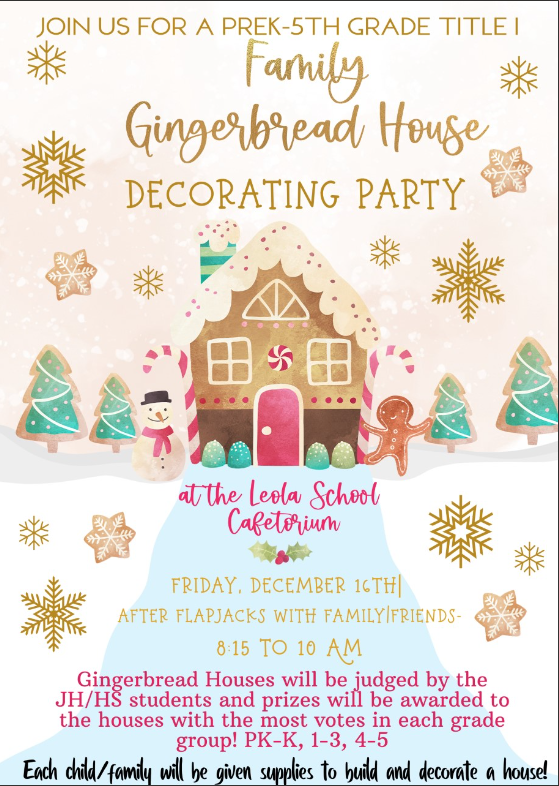 FBLA's Light Up Leola is this Saturday with inside events at the City Building. 4:00 PM Holiday Turkey/Leola Buck drawings & Santa Appearance 5:00 PM Locally Donated Basket Raffle 6:00 PM Parade of Lights down Main (No need to register - just show up at the school parking lot) Be sure to have some cookies and cider! Thank-you to the Leola Fire Department, Piggy Bank Thrift Store, & LDC for helping in making this a hometown holiday event! Please be sure to stop in to support our local Leola businesses during this holiday season.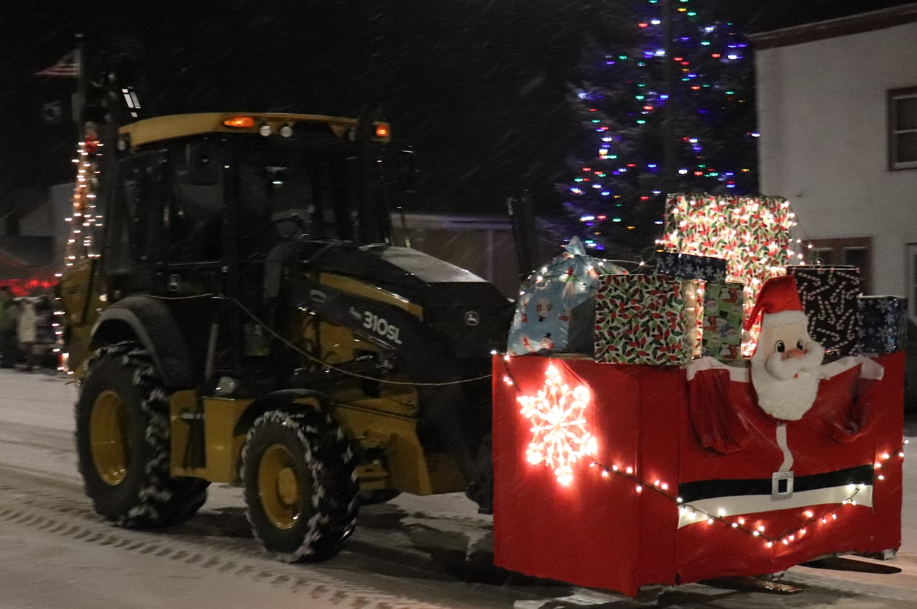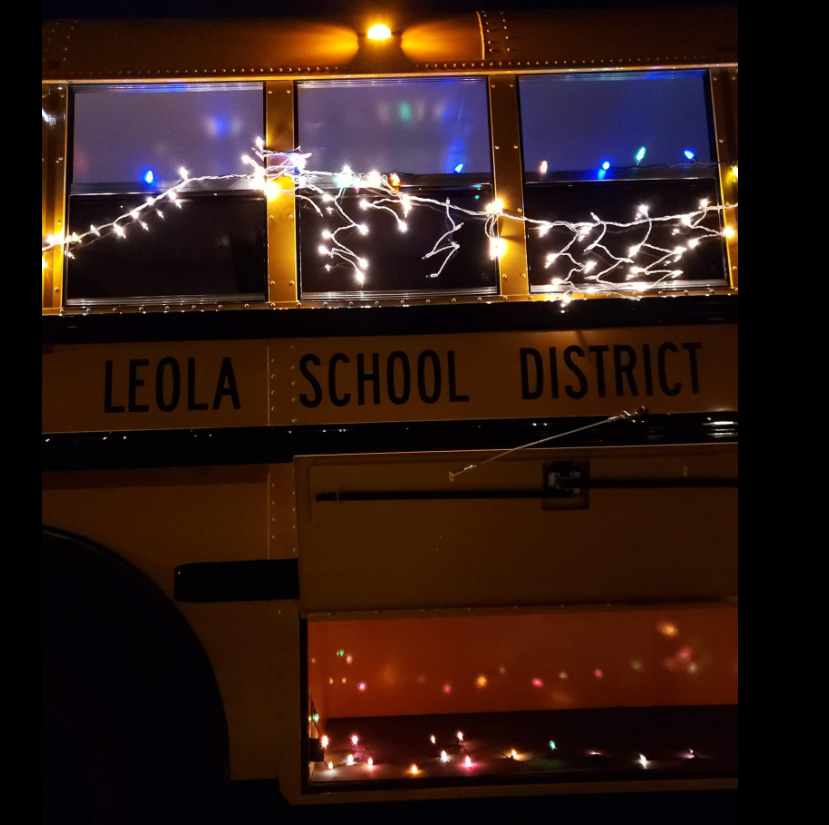 Flapjacks with Family/Friends for ALL Preschool-12th Grade on Friday, December 16th 7:45 AM - 8:15 AM, RSVP (605-439-3142) by Wednesday, December 14th.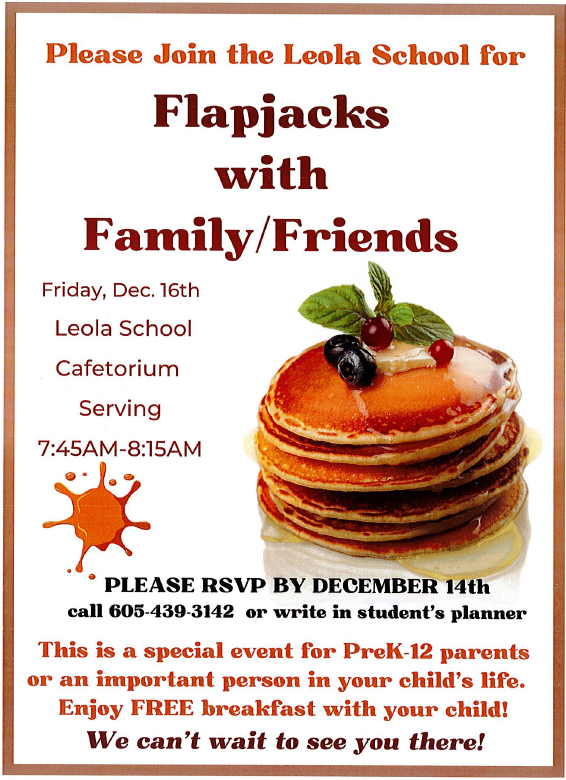 Good Afternoon, Leola Families. This is a reminder there is no school this Friday, December 2nd because of staff in-service. Also, please note that this year's Christmas Concert will be a PreK-12 event on Thursday, December 8th at 7:00 pm. Finally, in planning for Christmas break, the last day of school for students will be Tuesday, December 20th ending at normal time. Thank-you!

Good afternoon! Due to significantly icy roads and the predicted extreme winds this evening, the Leola School District has decided to cancel all events this evening: parent/teacher conferences, Family Fall Festival, Senior Financial Aid Night, and the junior high girls basketball game in Ipswich. If you would still like to schedule a time to meet with your child's teacher(s), please coordinate a time during one of our early-release Fridays from 12:30-3:30PM.

Good Evening. This is just a reminder about tomorrow's Parent/Teacher Conferences from 4:00-8:00 pm along with the Family Fall Festival and senior FAFAS info night. There will be no After School Program tomorrow. We will watch the weather and keep you posted if this event were to change. Also, Friday is our 12:30 dismissal and then Sunday, Nov. 20th at 1:00 pm is the Leola and Frederick Snow Queen program in the Leola Gym.

• The South Dakota Departments of Education and Social Services are conducting a survey (click link) to assist the state in understanding the current landscape of preschool education (for children ages 3-5) in South Dakota. This is the first step in a statewide study to capture valuable information about the preschool opportunities currently available to families across the state. o The survey is targeted to families, teachers, and administrators, and we are requesting your assistance to help ensure that it reaches as many people as possible. o The survey closes Dec. 16.

Good Evening. The Leola School will have a 10:00 am late start to allow daylight travel with many rural roads still iced over. Buses will run where possible but route families please call your driver to make arrangements. If rural families feel it is not safe to travel, please, call the office and it will be an exempted absence. Reminder, late start days do no have AM preschool or breakfast. Thank-you and travel safely!

Greetings, There will be no school for students tomorrow, Friday, Nov. 11, 2022, due to continued icy conditions and it being a half student day. Staff, we will attempt our work day starting at noon. Stay safe!

The Leola School will be closed, today, Nov. 10th, 2022 due to icy conditions.

Good Afternoon- The Leola School will have a 10:00 am Late Start on Thursday, Nov. 10th to allow families to plan and administration to reassess weather conditions. Reminder, there is no morning group preschool or breakfast on Late Start days. Please travel safely.

All after school activities for Leola School are cancelled so students & staff can get home before dark and more weather comes in. We will continue to keep you posted on tomorrow's weather related plans.

Good Afternoon, Leola School Families. With the predicted weather for this Thursday, Nov. 10th, Parent/Teacher Conferences & the Elementary Fall Festival will be moved to the following Thursday, Nov. 17th from 4-8:00 pm. As we watch the weather pattern, we will keep you updated on any school closures and our Veteran's Day program. Thank-you and have a great rest of your day.

Dear LEOLA SCHOOL Families, Exciting news! We have partnered with Books Are Fun and their Book Blast program to help build our students' home libraries. For over 30 years, Books Are Fun has been a trusted partner in promoting literacy. Today, our students learned about the Book Blast Program, literacy, and the importance of having their own books at home. Tonight, we ask you to take 7 minutes to help build your child's home library. CLICK BELOW TO HELP YOUR STUDENTS AND THEIR CLASSMATES:
http://bookblast.booksarefun.com/LeolaSchool
Registration steps: ü Click the link above or scan the QR code on the Treasure Map. ü Register & Enter Contact Info of 10+ friends/family members who would like to support your student's love of books. Complete this tonight by 11:59 p.m. for your student to receive rewards the next day at school. ü Sign the Treasure Map and have your child turn it in tomorrow to earn rewards.   Why I love this program: · It's guaranteed to put new, age-appropriate books into the hands of every student! · 100% of all contributions go toward new books and classroom supplies. Books will be delivered to the school a few weeks after the event ends. · The booklist is fantastic!  It's attached; check it out. · It will take you about 7 minutes. There is NO financial requirement of you. · Don't worry. All the information you provide is secure and only used for this program. More books in your homes equals more pages being read! That's the goal. We're hoping for 100% participation.   Thank you for helping our students and our school! Check out the treasure map here!
https://5il.co/1ka6r

Reminder, this Friday is a 12:30 release for grades K-12. Our K-5 Early Release After School will in conjunction with LDC's Movie Day starting at 12:30 and ending 3:00. Students will need to bring their signed slip back to the classroom teacher.